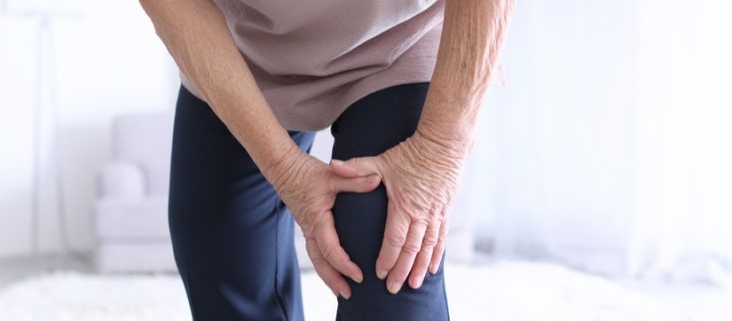 In the last post on our site, we began to explore the benefits of exercise and physical activity for osteoarthritis (OA).
There is currently a lot of interest around developing appropriate care for patients with OA. We are learning that inflammation is a part of this condition and therefore management of inflammation is very important. We are also learning to manage patients based on their symptoms rather than results of their imaging. We are learning that exercise and physical activity are helpful in the management of OA.
This is a fantastic infographic that provides us with a great understanding of knee OA and is a really nice way to guide patient care.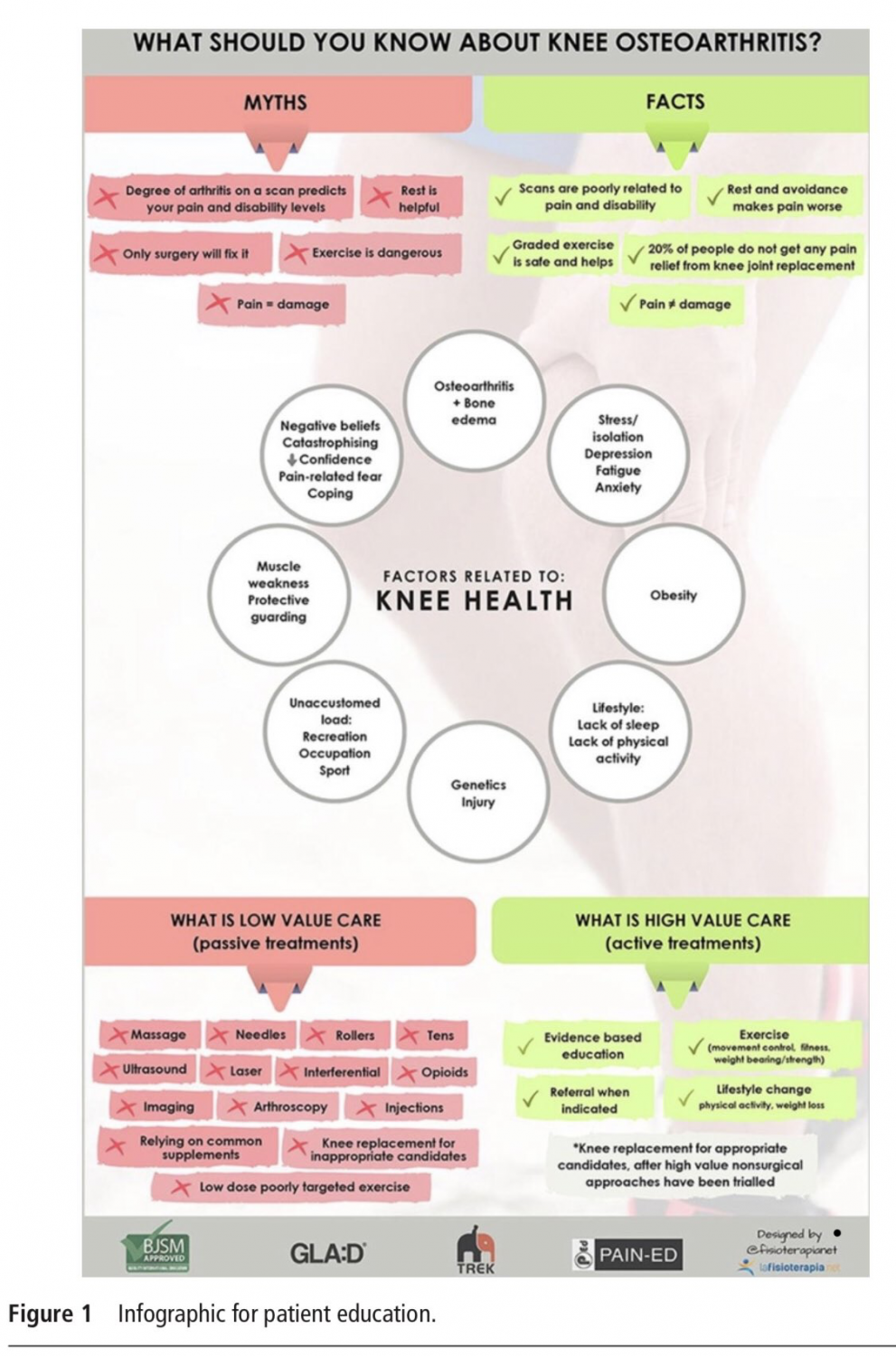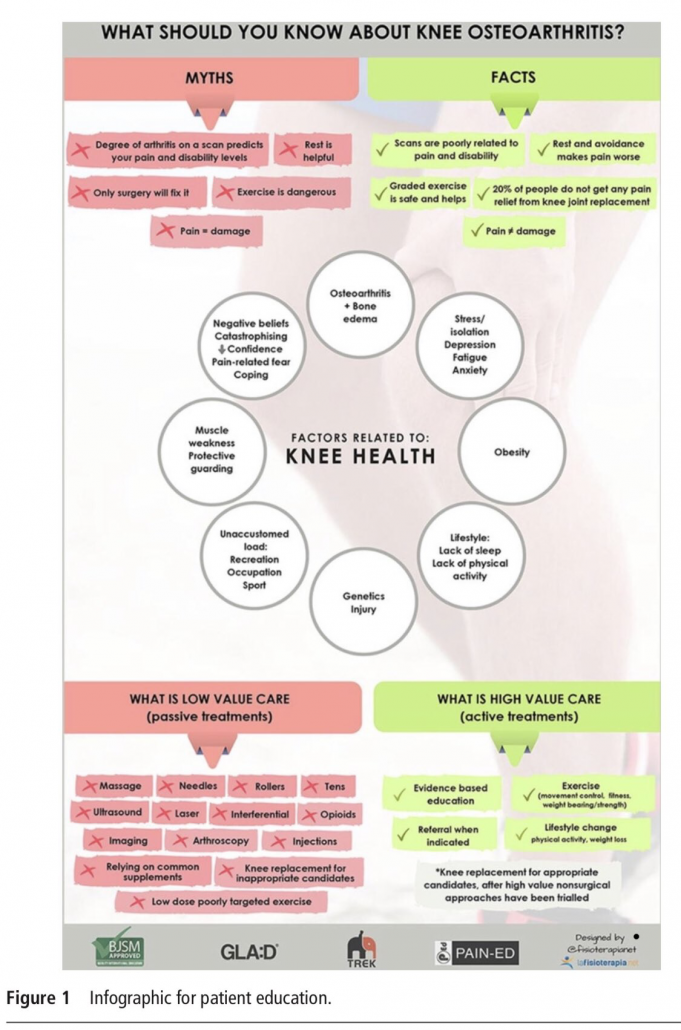 Previously discussed in our last blog post here the above infographic also explains that exercise for knee OA is considered safe (and helps), pain may become worse with inactivity and hurt does not necessarily equal harm.
Exercise is regarded above as "high value care" as are lifestyle changes such as increased physical activity. It is important that exercise and physical activity is tailored to the individual and their symptoms.
As physiotherapists, we are encouraged to follow the key points presented above, allowing us to provide the best guideline based care for knee OA.
Aside from exercise therapy in the management of OA, management of knee OA needs to be considered as a "whole person condition". There are many factors listed in the infographic above that can relate to knee health, highlighting the importance of a "whole person" approach to this condition.
Weight loss and maintaining a healthy weight becomes of high importance with conditions such as OA. Increased fatty tissue is being associated with increased levels of inflammation in the body, therefore carrying an excess amount of weight is a risk factor for increasing this inflammation. Inflammation is a part of this condition and may largely drive your pain. Alternative options such as cryo toning have been known to help keep the increased fatty tissue under control, but with limited success.
Maintaining a healthy weight may also reduce your risk of OA.
Strategies to target weight loss and maintain a healthy weight include:
Promoting a healthy lifestyle eg. dietary changes
Promoting an active lifestyle eg. exercise, physical activity
Reducing sedentary behaviours eg. sitting less
Other things that are important in the management of OA include:
Addressing additional health conditions.
Implementing strategies to improve sleep. See previous post here.
Helping patients develop confidence in the management of their condition.
Educating patients to manage flare ups.
Addressing some of these may require additional support from your general practitioner and/or other members of the multidisciplinary team.
The growing evidence in to the appropriate patient management of OA encourages clinicians and patients to consider a shift in how they manage this condition. Becoming more "proactive" in patient care has been mentioned and with what we are learning, makes a lot of sense.
There are times where surgical care may be needed. However, following guideline based care for knee OA is being strongly encouraged to avoid a need for surgery where possible.
Thanks for reading.
References:
Caneiro JP, et al. Br J Sports Med Month 2019 https://www.ncbi.nlm.nih.gov/pubmed/31484634
Hunter DJ. Rheumatology 2018 https://www.ncbi.nlm.nih.gov/pubmed/29684220
Disclaimer: this information is for your education/information and should not be considered medical/physiotherapy advice regarding diagnosis or treatment recommendations.
https://www.insightphysiotherapy.com.au/wp-content/uploads/2020/02/older-woman-knee-pain-732x355-1.jpg
355
732
Stacey Gibson
https://www.insightphysiotherapy.com.au/wp-content/uploads/2016/09/Insight-physio-logo3.png
Stacey Gibson
2020-03-02 14:52:24
2020-12-09 23:43:00
The benefits of exercise and physical activity for osteoarthritis-part 2